Insecurity: APC, PDP Cannot Do It Alone, Buhari Should Address Nigerians – Clark
The ruling All Progressives Congress (APC) and the opposition Peoples Democratic Party (PDP) cannot fix the myriad of security challenges facing the country.
This is according to an elder statesman and former Minister of Information, Edwin Clark, who stated this during an interview on Channels Television's Newsnight which aired on Sunday.
He called on President Muhammadu Buhari to address Nigerians on steps taken by his administration in solving the pressing issues at stake.
"Let President (Muhammadu Buhari) call all of us. APC cannot do it alone, PDP will not either. Call the leaders, there are all generals in this place, General Gown, General Babangida and all of them," he said.
"Abdusalam is there talking every time. Nigeria does not lack people. Let the President come out to see his people. Let him invite his people and discuss with them, what do we do with our country?"
Clark also backed the call for the creation of state police and restructuring of the nation, although he admitted that some states might find it difficult to pay police personnel.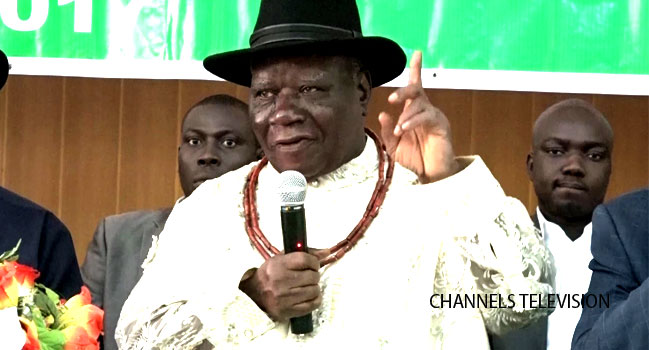 He called on all Nigerian leaders to come together to address the problems facing the country, adding that should the citizens have no other country to call their own.
READ ALSO: Labour Dispute: Firm Action Needed To Reverse Attacks On Jobs In Kaduna – Falana
His remarks come five days after 17 governors of the southern region conveyed an emergency security meeting in Asaba, the Delta State capital.
The governors banned open grazing, called on President Buhari to convoke a national dialogue to address widespread agitations amongst various groups in the region.
The communiqué partly read, "At its meeting, held today, 11th May 2021, the Southern Governors Forum reviewed the situation in the nation generally and focused on the current security situation, agitations/restructuring, prospect for inter-state collaboration and partnerships as well as on the incidence of the COVID-19 pandemic. Rising from the meeting, the Forum:
"Affirmed that the peoples of Southern Nigeria remain committed to the unity of Nigeria on the basis of justice, fairness, equity and oneness and peaceful co-existence between and among its peoples with a focus on the attainment of shared goals for economíc development and prosperity;
"Agreed that the progress of the nation requires that urgent and bold steps be taken to restructure the Nigerian Federation leading to the evolution of state police, review of revenue allocation formula in favour of the sub-national governments and creation of other institutions which legitimately advance our commitment to and practice of true federalism;
"Recommended that in view of widespread agitations among our various peoples for greater inclusiveness in existing governance arrangements, the Federal Government should convoke a national dialogue as a matter of urgency."
Nigeria has been experiencing a series of security threats ranging from terrorism, banditry, militancy, cultism among others in several parts of the country.
The country has been battling terrorism for more than a decade which has killed 36,000 people and displaced hundreds of thousands in the northeast.
The Islamic State of West African Province (ISWAP) split from the jihadist group Boko Haram in 2016 and has since become a dominant threat in Nigeria, attacking troops and bases while killing and kidnapping passengers at bogus checkpoints.