Kaduna Govt Mulls Plan To Clear Three Communities, Relocate Residents Along Highway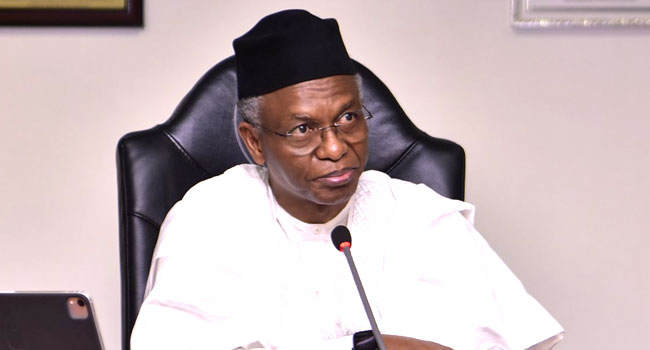 The Kaduna State Government has said that it will consider the option of either relocating residents or clearing the three communities along the Abuja-Kaduna highway due to incessant attacks by bandits and terrorists on travellers in that area.
The three communities are Rijana, Kateri and Akilibu, all in the Kagarko Local Government Area of the state.
Governor Nasir El-Rufai, who lamented that there are higher levels of informants and bandits in the areas, said the only answer is for security agencies to look at the options including the total clearance of the three communities and the relocation of the residents to safer places.
READ ALSO: Two Dead As Three-Storey Building Collapses In Lagos During Rainfall
"The first concern I see from this report is the continuous mention of Rijana, Kateri and Akilibu axis in all these crimes, particularly the safety or lack of it on the Abuja-Kaduna road," he said.
"We have been exploring what to do on these three settlements, whether to relocate them to near Kagarko, whether to clear the entire settlement and I will like the Security Council to deliberate on this and let's look at the options."
He explained that intelligence information at his disposal has shown that some inhabitants of the communities serve as informants to bandits and terrorists,  and as such, has exacerbated the attacks on the Kaduna-Abuja highway.
El-Rufai added, "It is very clear that there are the higher levels of informants and criminals in these locations. Why is it that anytime there is an attack or kidnapping on the Abuja-Kaduna road, it happens along this three-axis and nothing ever happens on the Kagarko side?
"There is something wrong with these three settlements and the government should not refuse to do anything or fail to do anything. We have to look at options, including the clearance of the settlements completely and the relocation of the people to where other more honest people who can watch them."
The governor also expressed concern over the dangerous role of drug peddling and intake in the rising insecurity in Kaduna state.
He, therefore, directed the security agencies to beam their searchlight on such persons with a view to bringing them to justice and cutting down the supply chain.