Troops of One Mechanized Division of the Nigerian Army on Thursday rescued thirty people who were kidnapped by bandits in the Birnin Gwari Local Government Area of Kaduna State.
According to a statement by the Acting Deputy Director of Army Public Relations of One Mechanized Division Lieutenant Colonel Musa Yahaya, the troops engaged the bandits who were kidnapping commuters at Manini village along the Kaduna-Birnin Gwari Road.
The troops, who were escorting the Chief of Defence Training and Operations Major Gen SE Udonwa who was on operational visits to Operation Whirl Punch Headquarters in Birnin Gwari, overpowered the bandits during a gun duel, thereby forcing the criminals to withdraw in disarray.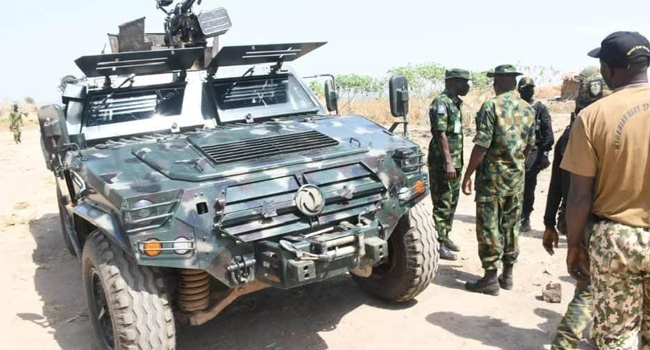 READ ALSO: 'Elements' In Aso Villa Want APC To Lose Election, Says El-Rufai
During the encounter, the troops rescued 30 kidnapped victims, recovered two motorcycles, and immediately cleared the highway for the free flow of vehicular traffic. The rescued victims were escorted to Udawa and Birnin Gwari to continue their journey.
"The Chief of Defence Training and Operations, Maj Gen SE Udonwa, has commended the troops for their professionalism and resilience," the statement added.