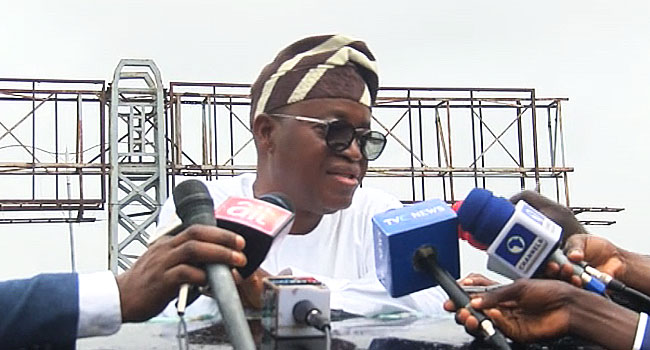 Governor-elect, Ademola Adeleke, has thanked his supporters for "reaffirming the mandate" following his victory at the Supreme Court.
The elated governor-elect also thanked God, as well as the judiciary for his victory.
"I am elated. It is the best I have ever seen. This is spontaneous. The judgement was some 20 minutes ago and see the crowd," he said as a crowd of supporters trooped out to celebrate the victory.
"I am happy they believe that judgement has come and it has affirmed the mandate they gave to me September last year".
The candidate of the Peoples Democratic Party (PDP), Ademola Adeleke, had filed a petition at the Election Petition Tribunal to challenge the victory of Gboyega Oyetola, of the APC in the September 22 and 27 elections.
But the Supreme Court dismissed the appeal on Friday and affirmed Oyetola as the winner.
Speaking about his plans for the state, he assured the people of his commitment to delivering the dividends of democracy to them, with a focus on agriculture.
Read Also: Supreme Court Affirms Oyetola's Victory In Osun Election
Beyond that, however, he promised to focus on empowering the women and youth.
"I will continue to dedicate myself to the service of the people. The love they have shown clearly demonstrates that I must put in more efforts to ensure that I give them the dividends of democracy.
"We will continue to talk about renewal of infrastructure. The health scheme is going on, we will continue to pursue education, agriculture is going to be the mainstay of the economy, youth and women empowerment.
"Women have been very wonderful. Infact, I give them 80% so I am committed to ensuring their welfare as well," he said.
While calling on the people for their support, he also called on the opposition Peoples Democratic Party (PDP) to see themselves as stakeholders who should also contribute to the growth of the state.
"I call on everybody to join me in our resolve to move the state to the next level.
"I am the governor of the state and I want everybody to come on board and we should all be committed to moving the state to the next level.
(To the PDP), "they should accept the will of the people, they should see themselves as part of the state. They should see themselves as stakeholders and embrace peace and let's work together in the interest of our great state.
"I extend my hand of fellowship to everybody. I am the governor of the state, not a particular party and I want to embrace everybody," he added.