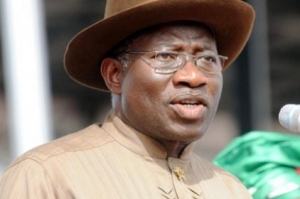 President Goodluck Jonathan, just back from the AU Summit, has taken time out to visit the scene of Wednesday's bomb blast in Wuse II in the Federal Capital Territory, Abuja.
He described the act as regrettable and painful, promising that those who carried out the bombings and their sponsors would be brought to book.
The President wondered why anyone would be planning evil for those who are carrying out legitimate businesses, fending for their families and contributing to the development of the nation. He described what has happened as one of those dark phases in the history of the country which Nigeria must overcome.
The visit also took him to the Maitama District Hospital, where he sympathized with the wounded who were brought there for treatment.
He used the opportunity to call on Nigerians to shun criticisms of security personnel and rather give them maximum support and information that would enable them fish out those who carried out the terror attacks.