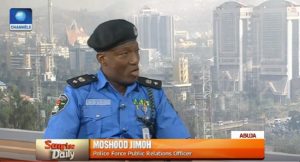 The Police Force Public Relations Officer, Moshood Jimoh has said that the search warrant executed at Senator Danjuma Goje's residence has nothing to do with the 2017 budget.
He stated that the police did not go to his residence to search for the budget and no document was sighted.
"We didn't go out there to search for the budget, no budget document was sighted and no budget document was removed".
Speaking as a guest on Channels Television's breakfast programme, Sunrise Daily, he revealed that the search was done due to credible information gathered that "stolen funds and other incriminating items were about to be moved from the premises and that was why the police made the move".
The Police PRO also noted that all documents collected were fully signed for by the aides to the former governor, after the search was over.

"In fulfillment of the procedure of the law, three of the Senator's relatives witnessed the search and endorsed their signature at the back of the search warrant.
The House of Representatives had resolved to summon the Inspector General of Police over the raid on the home of Senator Danjuma Goje.
The House reached the resolution after a debate on a motion raised by a lawmaker, calling on it to check the excesses of security agents.
The Senate on the other hand, expressed displeasure over the raid which according to the Chairman Senate Committee on Appropriation, Senator Danjuma Goje, had contributed to the delay in the passage of the 2017 budget.
He said policemen who raided his house five days ago, carted away documents pertaining to the budget.
"They took my laptop and to make matters worse, they took 18 files from my office."
Senate President, Bukola Saraki, expressed concern that five days after the raid of the home of Senator Danjuma Goje, the Police is yet to inform the Senator why his home was raided and documents were seized.
He, however, stated that the Police should take the responsibility in accepting its wrong doing.
"Informally, the Chairman of the Police committee told me this morning that the police are saying that it is something to do with whistle blower. If it is to do with whistle blower and the whistle blower misled them, for a matter that has come out publicly to embarrass a Senator, I think the Police owes it not only to him but also to members of the public to come out and accept responsibility."