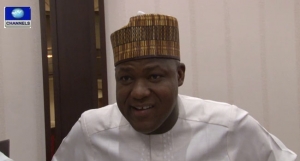 The Speaker of the House of Representatives, Honourable Yakubu Dogara, has congratulated the candidate of the All Progressives Congress (APC), Godwin Obaseki, on his victory at in the just concluded Edo governorship election.
In a statement on Friday by his spokesman, Mr Turaki Hassan, the Speaker said, "the Edo State governorship election was not won just by the APC and Godwin Obaseki, but by the people".
"The conduct of the people of Edo State during the election was commendable, as reports have shown that the election was peaceful and no life was lost nor violence reported.
"The rest of the country would do well to emulate the people of Edo State subsequently".
He added that "the APC's victory in Edo State is a telling challenge for politicians and leaders, as  it has shown that the Nigerian voting population is now more aware than ever of the fact that delivering the dividends of democracy to those we lead guarantees that our party will always be favoured.
"Governor Oshiomhole has done very well in Edo State and it is safe to say that the APC's victory was largely predicated upon his  record of performance in the state".
Mr Dogara described the Governor-elect as a renowned technocrat whom he believed would government the state efficiently.
"I believe strongly that his vast knowledge and wealth of experience will translate to efficient and effective management of the affairs of Edo state.
"I would also like to thank the people of Edo state for placing their trust in our great party and choosing APC once again", the Speaker added.