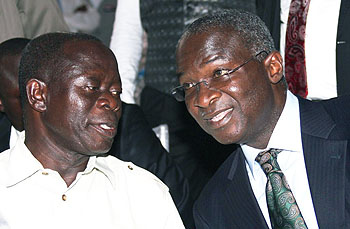 The second term of Adams Oshiomhole as Edo state governor started yesterday, as he and his deputy were sworn in at the Samuel Ogbemodia stadium in Benin City.
Amongst national leaders who attended the swearing-in of governor Adams Oshiomhole of Edo state was former Head of State; General Yakubu Gowon.
He said the scorecard of his administration was a clear demonstration that the state was working against the thinking of cynics that development was impossible in the state.
"Today, we are proud of our scorecard. With all sense of responsibility and humility, we make bold to say that we have comprehensively impacted the lives of our people in so short a time since the creation of this state. Within our limited resources and in spite of the financial deficits we inherited, we have touched communities and lives across the state.
"We are carrying out reforms in all sectors of governance and promoting a culture of respect for 'value-for-money" in all transactions, respect for public property, beautification of the capital city, modernization of local government headquarters, and promoting political, leadership responsibility and accountability. We have paid special attention to the transformation of the rural areas and the empowerment of women and the youth.
"The results of our efforts are clear and we have received commendations from within and beyond Nigeria. We have always believed that our people deserve the best and we are committed, as a government, to providing the best at all times for them. I can say without hesitation that the best is yet to come."
Others in attendance are governors from the Action Congress states and the National Leader of the party, Senator Bola Ahmed-Tinubu.