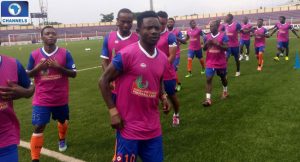 As the commencement of the 2016-2017 Nigeria Professional Football League Soccer season draws near, Ondo State representatives, Sunshine Stars of Akure have started a close camping at Ile-Oluji the headquarters of Ile-Oluji/Oke-Igbo Local Government Area of the State.
The darling team of Ondo State is expected to use the camping exercise to prepare for the new season tactically and technically.
Led by Coach Kayode Olujoungbe, members of the team could not hide their joy, as they intensified preparations for the fast approaching soccer season.
Addressing the team before departure, President of the Club, Prince Dapo Ajibade, stressed the need for the players and coaches to be dedicated and committed to the task ahead.
Prince Ajibade, who is also the Chairman of the Ondo State Football Agency, urged the players not to engage in acts capable of distracting them, highlighting that total concentration is needed at this point.
He said: "We like to thank God Almighty for this moment. We also appreciate the commitments of the players.
"It is very important for all of us to work in harmony to achieve our aims. The coaches must do their best while the players must also not be left out. If all of us do our jobs diligently, with high level of determination and commitment in addition to the blessings of God, the sky will be the starting point".
Prince Ajibade added that the club management would work hard to provide the enabling environment for the team to succeed in the new season.
Meanwhile, the Sunshine Stars feeders team that took part in the Gold Cup Pre Season Soccer Tournament in Ijebu-Ode, Ogun State is expected back to Akure.
The young team led by Coach Banjo Adepoju was the toast of all fans and spectators, as they displayed high level of soccer artistry to the admiration of some top coaches at the tournament.
The team recorded two losses and two draws to end the tournament in a decent fashion.
The defeats came against MFM and FC Ebeide, while former Nigerian Champions, Kano Pillars and Niger Tornadoes could not break down the young boys from Akure.
The match against Tornadoes ended 1-1 while the tie against Kano Pillars ended 0-0.