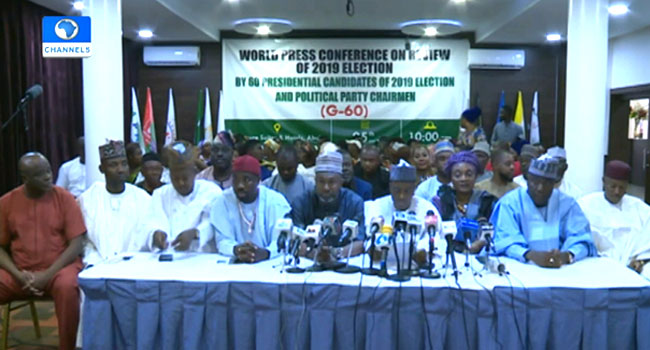 A group of political parties that participated in the 2019 general elections (popularly known as G-60 Forum) has passed a vote of confidence on Independent National Electoral Commission (INEC) conduct of the 2019 general elections across the country.
The 60 political parties described the 2019 poll as free, fair and credible.
"Having gathered as presidential candidates and political party leaders, we thoroughly Xray the 2019 elections, the unfavourable and hostile environment the election management body operated under, and the extant laws under which elections were conducted, have come to the conclusion that INEC performed creditably well.
"We hereby unequivocally reaffirm our confidence in INEC for its performance against all odds in the conduct of the 2019 general elections," Chairman of the G-60 Forum, Shittu Muhammed said.
Muhammed said this during a press conference on the review of the polls on Tuesday.
He added that the controversy trailing the electronic transmission of the election result is a deliberate ploy to destroy the integrity of the nation's electoral process.
According to him, this is because the Electoral Amendment Act Bill was not signed by President Muhammadu Buhari and transmitting electronically would be unlawful.
"This INEC server controversy is a deliberate ploy to destroy the integrity of our electoral process and the so-called result from the server be described to as credible where INEC could not have legitimately transmitted the result of the presidential or any of the other elections electronically.
READ ALSO: Tribunal Rejects Atiku, PDP's Request To Access INEC's Server
"INEC informed all political parties in the election following the non-passage of the Electoral Act that it would not deploy the electronic transmission of results since it will not be lawful to do so," he said.
While claiming that the Peoples Democratic Party (PDP) was present at INEC's briefing of political parties before the general elections, Muhammed, however, wondered why the main opposition party would heat up the polity with the electronic transmission on the server.