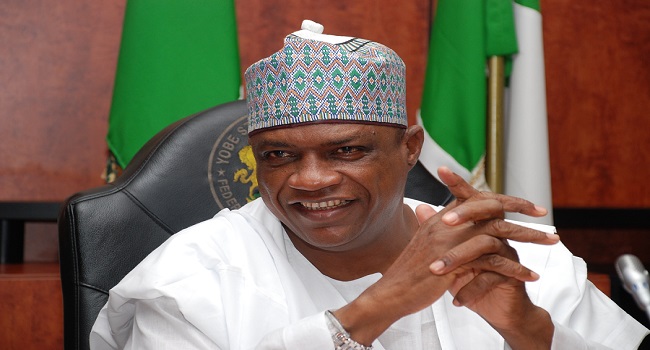 The Yobe State Government is seeking an effective collaboration with the Federal Government of Nigeria in a bid to fight its most threatening ecological problem, desertification.
The State Governor, Ibrahim Gaidam, made the appeal when the Minister of Environment, Amina Mohammed, accompanied by the Minister of State Environment, Usman Jibril, visited the state on Monday, as part of their plans to assess ecological problems facing Nigeria.
Governor Gaidam, represented by his Deputy, Abubakar Aliyu, said that concerted efforts to cope with the encroaching desert, erosion, flood among others were being done by the State Government, but environmental problems had continued to threaten several means of livelihood of its inhabitants.
The Governor said that the southern part of the state was hit by erosion while desertification continued to move into the hinterland from the northern part of the state bordering the Republic of Niger despite several efforts. According to him, the development has called for urgent attention.
Governor Gaidam told the Federal Government officials that list of the ecological problems were being compiled and would soon be forwarded to the Federal Government for consideration.
He said tree planting, embankments and alternative energy source among other interventions had been worked out over the years but to no avail.
The Minister of Environment said that the aim of their visit was to address the climate change and environmental issues such as; erosion in the east, pollution in the Niger Delta, Atlantic and pollution around Lagos State and desertification in the north, with a view to looking at what state and local governments are doing to pave way for effective synergy to fight ecological problems bedeviling the oil-rich nation.
In an interview with reporters, the Minister said that the involvement of relevant stakeholder was key to the change agenda, stressing that lack of synergy had led to the failure of most strategies aimed at solving the issues.
Any involvement done in tackling the problems, according to her, will be continued rather than the previous methods of not involving the relevant stakeholders.
Mrs Mohammed said that people would be inspired to plant and nurture economic trees among other means of livelihood, pointing out that if the economy is working, it will be mutually beneficial to both the government and the citizenry.
The team is expected to visit other frontline states in the north-east with a view to addressing the ecological problems as well as educating the people on climatic change for better environment.