The wife of the president, Patience Jonathan has declared that efforts by fundamentalist sect, Boko Haram and its sponsors to destablise her husband's administration will fail.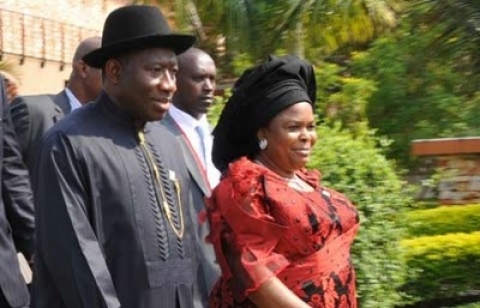 Mrs Jonathan made the statement in Yenagoa, the Bayelsa State capital on Sunday, while addressing a congregation at a thanksgiving service organised by the Speaker of the state House of Assembly, Mr. Benson Kombowei.
According to the First Lady, "my husband is a man of peace. The growing cases of insecurity in the country are being handled with utmost commitment and it is great concern to him. Those involved in this act should know that he [Jonathan] did not make himself president of Nigeria" she stated.
She alleged that "it is becoming increasingly clear that some people are preoccupied with sponsoring of sharp criticisms against Jonathan and the same set of individuals are funding the ignoble activities of Boko Haram and their efforts would end up in nullity."
The first lady emphasized that "Nigerians voted him into office to lead this country and all they are doing to disrupt and derail the peaceful co-existence of this nation as a corporate entity would definitely fail" she said.