One of Big Brother's most loved couple Junia and Malonza are no more in the House. They were the latest to bid farewell at the Stargame last night.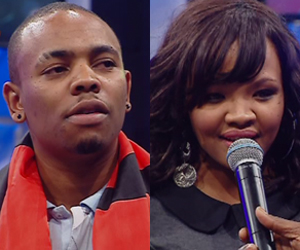 When it was time for the eviction, IK, the presenter, scared the 6 housemates that were put up for eviction, by calling out their names with so much sympathy.
Prezzo who was the first to be metioned showed so much fret in him, but fortunately for him he was saved by his fans.
Malonza whose name was also mentioned appeared not to be bothered, instead his girlfriend Junia broke down into tears.
When being asked by the presenter (IK) if the relationship was going to continue even after he leaves BBA, Malonza said "Anything that continues from here will be a plus but all I know is that Junia is a special friend.
He added that "what brought me joy at the Big Brother was the fact that I found Junia."
When the time for the second eviction came, Goldie was so nervous that Prezzo (the evicted)  had to pat  her at the back but he got lucky.
Well, when it was time to depart the house, Junia smiled while hugging others and whispered "At least am leaving with him."
It is clear that these two have genuine feelings for each other and they now finally have a chance to see if their love is for real.