Mandela Did Not Die, He Ascended – Captain Aliyu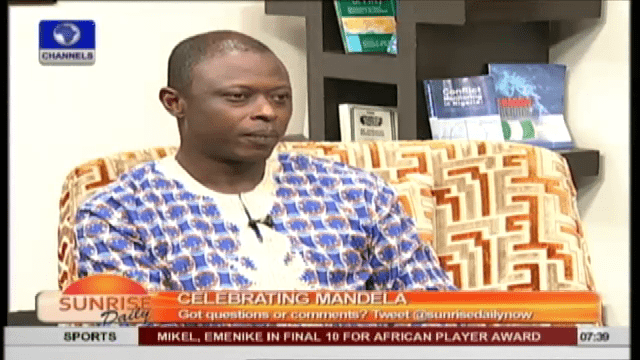 Following the news of South Africa's hero, Nelson Mandela, passing away at the age of 95, a security consultant, Captain Umar Aliyu (Rtd), on Friday said that the anti-apartheid champion did not die (spiritually) but only ascended.
Speaking on Channels Television's breakfast programme, Sunrise Daily, he described the late icon as "the greatest African man I know" and added that he "has ascended."
"I won't accept the use of the word dead. He ascended."
Nelson Mandela had been at the fore-front of the anti-apartheid struggle in South Africa and following the victory of the crusade, he emerged the first black president of the nation.
Speaking about his popularity in the world, Mr Umar said Mandela was more popular than the South African Rand.
"I don't even believe he is dead. Not in the spiritual sense.
Some people just transcend death. Some people rubbish death.
He will be more popular in death than when he was alive as "he cannot die".
Mr Aliyu said that Mandela gave account of all the 95 years he spent on Earth and added that those who are privileged to live for almost a century, should be able to do something significant.
"He stood for peace, truth and equality."
He praised Madiba for refusing to be South Africa's President for Life but choosing to rule for one term after emerging as the first black president.
Hope For A Nigerian Madiba
While praising Mandela's attributes, Mr Aliyu expressed his desire to see more selfless leaders in Nigeria, adding that, "it is my heart's song that somewhere among our leaders, we should also be able to bring about a Mandela." "Selflessness became his (Mandela) brand name."
Making a comparison between the kind of politics Mandela played and the kind Nigerian politicians play in contemporary times, Umar said "in my opinion, our politics has been tending more towards comedy than anything else."