Nigeria Customs Seizes 30,000 Rounds Of Live Ammunition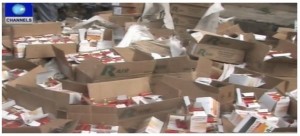 The Oyo-Oshun Area Command of the Nigeria Customs Service has seized 30,000 rounds of live ammunition in the Oke Ogun axis of Oyo State.
The seizure, which is a major breakthrough since the government ordered intensified crackdown against illegal arms trade across Nigeria, came on the heels of series of intelligence reports of renewed smuggling in vulnerable areas under the command.
Oyo-Oshun Area Controller of Customs, Richard Oteri, told reporters that the seizure was made by his men on Monday along ago area in Atisbo Local Government Area of Oyo State.
Mr Oteri stated that more efforts would be intensified towards inter agency cooperation, active and efficient intelligence network and serious clampdown on smuggling of any sort.
The intercepted delivery was heading to Ibadan, the Oyo State capital, where it would be delivered to an undisclosed destination.
The driver of the 18 sitter bus conveying the ammunition which were carefully concealed with tubers of yam was arrested while the owners of the contraband remains at large.
"They were heading to Ibadan and they do all they can in trying to beat the security officers. Like in this care, they changed the vehicle. The number we had earlier was not this number. They had to park somewhere and offloaded into this vehicle. They even have number plates.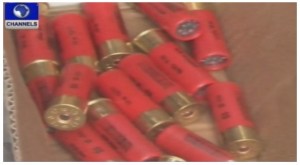 "They could be part of what they use to fuel arm robbery, kidnapping and insurgency in Nigeria," Mr Oteri said.
After receiving the ammunitions to, the Deputy Commissioner of Police Operations, Musa Kimo, lauded the efforts of the Oyo-Oshun Area Command of Customs and assured them that the suspect arrested with the ammunition would be prosecuted while further investigations would commence to fish out those behind the deadly trade.
The arrested driver of the bus, Mr Abdulraheem Adegoke, claimed ignorance of the crime.
He told reporters that he was under the impression that he was carrying yams and yam flour to Ibadan.
He also disclosed that the owners of the cartridges fled when customs officers started asking questions about the content of the packages.
)