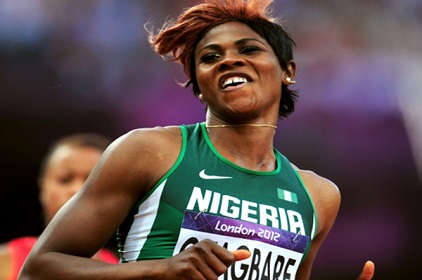 The Athletic Federation of Nigeria has named a strong contingent of athletes that will represent Nigeria at the Commonwealth Games in Glasgow, Scotland from July 23 to August 3.
Africa's fastest female sprinter, Blessing Okagbare, who has being doing well in the Diamond Leagues recently, leads the team and will be competing in the women's 100 metre, 200m and 4x100m events alongside Gloria Asumnu, Dominique Duncan, Justina Sule, Mariam Bassey and Christy Udo.
The likes of  Folashade Abugan, Omolara Omotosho, Regina George, Patience Okon, Ada Benjamin and Funke Oladoye,  will be competing in the women's 400metres and the 4x400m.
The Men's sprint team which has new national 100m champion, Mark Jelks, also includes Mozavous Edwards, Ogho-Oghene Egwero, Seye Ogunlewe, Obinna Metu and Peter Emelieze Triple jump Champion Tosin Oke alongside long jumpers Samson Idiata and Sule Hammed also made the list.
The listed athletes were selected at the completion of the 2014 Cross River State/All-Nigeria Athletics Championships on Saturday in Calabar.
The quartet of Isah Salihu, Noah Akwu, Orukpe Erayokan and Abiola Onakoya are said to be on probation in the men's 400m and 4x400m team respectively after failing to meet the standard in Calabar.