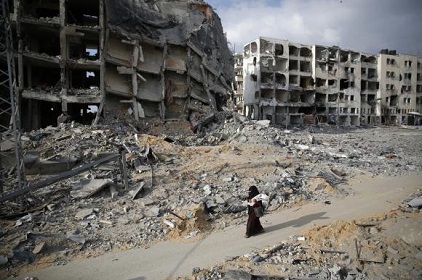 A Gaza truce was holding on Wednesday, as Egyptian mediators pursued talks with Israeli and Palestinian representatives on an enduring end to a war that has devastated the Hamas Islamist- dominated enclave.
Egyptian intelligence officials met in Cairo with a high-level Israeli delegation late on Tuesday, a day after conferring with Palestinians who included envoys from Hamas and the Islamic Jihad group, Egyptian officials said.
"The indirect talks between the Palestinians and Israelis are moving forward," one Egyptian official said, making clear that the opposing sides were not meeting face to face. "It is still too early to talk about outcomes but we are optimistic."
Egyptian and Palestinian sources said further discussions were expected to be held in Cairo on Wednesday, with expectations of an initial response by Israel to Palestinian demands, which it has so far shown no sign of accepting.
Israel withdrew ground forces from the Gaza Strip on Tuesday morning and started a 72-hour Egyptian-brokered ceasefire with Hamas as a first step towards a long-term deal.
In Gaza, where some half-million people have been displaced by a month of bloodshed, some residents left UN shelters to trek back to neighbourhoods where whole blocks have been destroyed by Israeli shelling and the smell of decomposing bodies fills the air.