France To Set Up Military Hospital To Fight Ebola In West Africa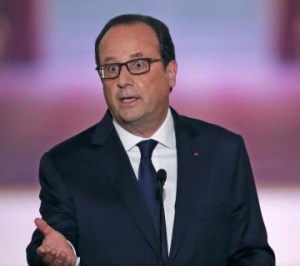 France will set up a military hospital in West Africa in the coming days as part of France's contribution to the fight against the Ebola outbreak there, President Francois Hollande said on Thursday.
Hollande said that France's response to the outbreak would not be limited to a financial contribution to European funds being made available to fight the virus, which the World Health Organization said on Thursday had claimed 2,630 lives so far.
"I have therefore taken the decision to set up a military hospital in the coming days in … the forests of Guinea, in the heart of the outbreak," Hollande said during a news conference.
Death toll in West Africa Ebola epidemic has reached 2,630 in the worst outbreak of Ebola virus in history, which has so far infected at least 5,357 people in West Africa, the World Health Organization (WHO) said on Thursday.
"The upward epidemic trend continues in the three countries that have widespread and intense transmission – Guinea, Liberia and Sierra Leone," the United Nations health agency said.
In a separate Ebola outbreak in the Democratic Republic of Congo, 40 deaths had been reported out of 71 cases by Sept. 15, the WHO said.