Dollar Strengthens On Naira Despite CBN Intervention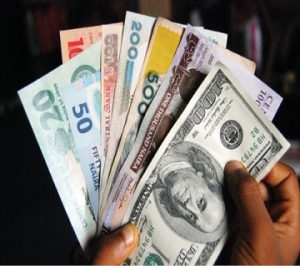 Nigeria's naira closed at a new low of 173.20 against the dollar on Monday, down 1.21 percent in volatile trades, despite Central Bank of Nigeria (CBN) intervention to prop up the currency, dealers said.
The regulator asked lenders to bid for $2 million each in a move to shore up the local currency, but commercial banks avoided the forex auction as the CBN was restricting the re-sale margins to curb speculation.
The naira closed at 171.10 on Friday.
Nigeria's foreign exchange reserves also fell 3 percent in two weeks to $37.59 billion by November 13, despite CBN's intervention.
Data published by the Central Bank on Monday showed that reserves were at $38.76 billion on October 29.
The bank has spent billions of dollars defending the naira, hit by falling global oil prices, in the past month.