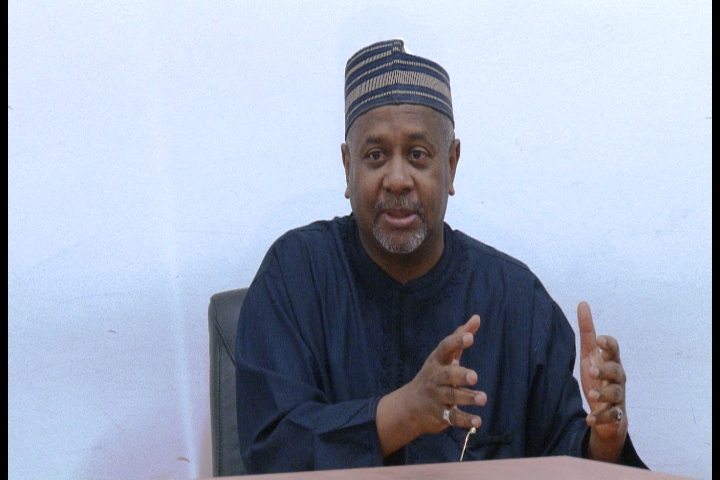 The National Security Adviser to President Goodluck Jonathan, Sambo Dasuki, has advised the Independent National Electoral Commission (INEC) to delay the elections scheduled for February in order to allow for proper preparations and distribution of Permanent Voter Cards (PVCs).
He gave this advice on Thursday during a discourse at London think-tank, Chatham House, where he stated that it would be advantageous if the upcoming elections were postponed.
He said that so far, INEC had distributed 30 million cards and would need to distribute more, noting that it would be the first time Nigerian voters would use a bio-metric card to prevent rigging of the elections.
According to him, since there were still another 30 million people yet to collect their PVCs, it would cost INEC nothing to change the dates of the elections.
Dasuki stated further that although INEC has assured the nation of success in the forthcoming election despite time constraint, it was reasonable to postpone the elections based on these factors.
According to tweets by the Chatham House Africa Programme in London, monitored by Channels TV, the NSA also gave assurances that the missing Chibok girls would soon be located with the help of the international community, particularly the French, British, Americans and Chadians.
The tweets also quoted him debunking allegations that the Nigerian Army were under-equipped.
Baga Casualty Figure
Dasuki also maintained the official casualty figure from the Baga attack released by the Nigerian Army, stating that only an independent verified copy of the satellite images can prove otherwise.
Suspected members of the Boko Haram had attacked the Multi-National Joint Task Force (MNJTF) base in Baga, Borno State on Saturday, January 5, with Defence Spokesperson, Major-General Chris Olukolade, pegging the casualty figure around the borders of 250 people, comprising mainly of members of the sect.
However, satellite images released on Thursday, January 15 by human rights organisation, Amnesty International, suggested that there was wide scale destruction by Boko Haram insurgents in the town.
Amnesty International said that the images provided "indisputable and shocking evidence" of the scale of the attack on the towns of Baga and Doron Baga by Boko Haram militants.
According to the organisation, "Before and after images of two neighbouring towns, Baga (160 kilometres from Maiduguri) and Doron Baga (also known as Doro Gowon, 2.5 km from Baga), taken on 2nd and 7th of  January show the devastating effect of the attacks which left over 3,700 structures damaged or completely destroyed. Other nearby towns and villages were also attacked over this period.
"These detailed images show devastation of catastrophic proportions in two towns, one of which was almost wiped off the map in the space of four days."
Meanwhile, the leader of the terrorist group, Boko Haram, Abubakar Shekau, in a new video, has claimed responsibility for the Baga massacre.
The man claiming to be Abubakar Shekau said that people were killed "as our Lord instructed us", threatening more raids.