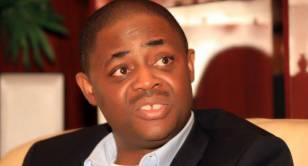 Former Minister of Aviation, Mr Femi Fani-Kayode, has described the fraud charges against him as politically motivated.
Mr Fani-Kayode stated this on Wednesday on Channels Television's politics programme where he faulted the charges file by the Economic and Financial Crimes Commission (EFCC).
"I have done absolutely nothing wrong and neither have any of my co-accused. I saw this coming the day we lost elections and it was announced that the other side had won.
"I refused to leave the country just as I refused to leave the country in 2008 when I was accused of things then.
"I have absolutely no doubt that in the end of this particular exercise I will be declared innocent by the court simply because it is very obvious that this is a politically motivated allegation," he said.
The former Minister denied receiving funds from government agencies to run the campaigns of the Peoples Democratic Party (PDP) in the 2015 general elections.
He criticised the allegations, stating that the money used to fund the PDP campaign was gotten from the party's private account.
"You asked a direct question, did I receive money from any government agency for my operations within the campaign? The answer is no.
"Our Director of Finance sent money out to the various directors including me from our own private company account for us to run our operations.
"I was given only 10% of what I needed (very small) about 800 million Naira to run a campaign for three months and we utilised that money," he said.
Fani-Kayode said that the charges before him have brought him no regret working for former President Goodluck Jonathan, saying that he was not the only person that has been facing charges.