C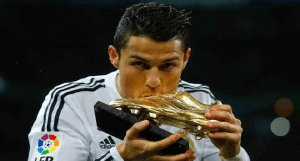 hristiano Ronaldo  has scored a total of  290 goals since he started playing in Real Madrid, making him the third top scorer in Real Madrid's history. Ronaldo has scored in all of the games he has played in the round of 16 stage of the Champions League since the 2011/12 season.
Cristiano Ronaldo began demonstrating his eye for goal since 29 August 2009 against Deportivo, when he got on the score sheet during a 3-2 win in the Santiago Bernabéu. The ease with which the Portuguese man is able to break records means that, in the space of just six years, his name is already being talked about in the same breath as the club's all-time best players.
Ronaldo kept up his fantastic performance in the Champions League round of 16. Since the 2011/12 season he has scored in all of the matches in this round. In total, that means he has scored in seven successive round of 16 matches.
The run began in 2012 against CSKA Moscow, where Ronaldo scored a goal in a 1-1 game in Russia, and featured again in the return leg by scoring two of the team's four goals.
Ronaldo was once again decisive in the game against Schalke 04.
A year later, the Portuguese player made a vital contribution in the win against Manchester United in the round of 16.
Ronaldo scored the Whites' goal in the home leg and got the second goal in the away leg at Old Trafford that sealed through to the next round.
Last season, the Whites had a clear win over Schalke in the round of 16 where Ronaldo scored twice on the night of the 6-1 win and got another brace during the 3-1 win at the Santiago Bernabéu.
The run has continued this year, with the German team once again the opponents. Cristiano has scored five goals against them in three games.
Christiano Ronaldo continues to write his name in the Real Madrid records as he is now the club's third top scorer of all time. Ronaldo's header against Schalkebrings the forward's tally with the Whites to 290 goals, thus equaling Santillana's record.
The Portuguese star has reached this milestone after 280 games, while the Cantabrian needed 645 matches to do so. The only players ahead of Ronaldo are Raúl (323) and Di Stéfano (308).