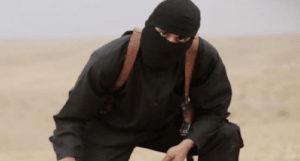 The masked Islamic State IS militant known as "Jihadi John", who has been pictured in the videos of the beheading of Western hostages, has been named as Mohammed Emwazi.
Mohammed Emwazi, a Kuwaiti-born British man in his mid-20s from west London, He is a British computer programming graduate from a well-to-do London family.
Emwazi first appeared in a video last August, when he apparently killed the US journalist James Foley.
He was later thought to have been pictured in the videos of the beheading of US journalist Steven Sotloff, British aid worker, David Haines, British taxi driver, Alan Henning and American aid worker, Abdul-Rahman Kassig also known as Peter.
The black-clad militant brandishing a knife and speaking with an English accent was shown in videos released by Islamic State IS, apparently decapitating hostages including Americans, Britons and Syrians.
The 26-year-old militant used the videos to threaten the West, admonish its Arab allies and taunt President Barack Obama and British Prime Minister David Cameron before petrified hostages cowering in orange jump suits.
Emwazi's name was first disclosed by the Washington Post, citing unidentified former associates, but two U.S. government sources who spoke on condition of anonymity confirmed to Reuters that investigators believed Jihadi John was Emwazi.
Jihadi John became a menacing symbol of Islamic State brutality and one of the world's most wanted men.
Hostages called him John as he and other Britons in IS had been nicknamed the Beatles.
Emwazi who was born in Kuwait, came to Britain aged 6 and graduated with a computer programming degree from the University of Westminster before coming to the attention of Britain's main domestic intelligence service, MI5