The All Progressives Congress (APC) has raised very strong allegations against the ruling Peoples Democratic Party (PDP), saying PDP is planning to rig the general elections.
At a press conference in Lagos State on Wednesday, the APC National Publicity Secretary, Mr Lai Mohammed, alleged that the PDP had concluded plans to pay huge sums of money into the bank account of the chairman of the Independent National Electoral Commission (INEC), Professor Attahiru Jega, to taint him so as to remove him from office.
"Ongoing Plan To Sack Professor Jega"
The APC spokesman also alleged that the ruling party had employed the services of two Isrealies and a Belgian, who are Information Technology Specialists, to hack INEC's systems to rig the polls.
"The handwriting is clear. This administration knows that it cannot win in a free, fair and credible election, because of its appalling record in office. Nigerians want change through the ballot box and they are determined to effect that change with their permanent voter cards.
"There is a plot to transfer a humongous amount of money into the account of the INEC chairman and then claim that the money came from Mr Bola Tinubu and the APC in order to justify the ongoing plan to sack Professor Attahiru Jega so he won't organise the election," Mr Mohammed said.
PDP Says Claims Not True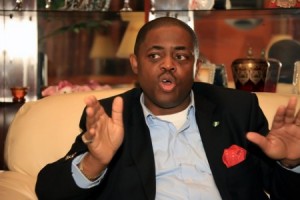 In a swift reaction, the spokesperson for the President Jonathan campaign organisation, Mr Femi Fani-kayode, said there was no truth in the statements made by the APC's spokesman.
He said the PDP had no plans to rig, neither does it have any motive to implicate anybody in the run up to the polls.
"It is clear that this clear that these claims and allegations are nothing but the paranoid rantings of a paranoid man working for a paranoid party.
"We Are Not Strategising"
"Rather than trying to prepare his master's mind for the defeat that is coming their way, Lia Mohammed has come again with his verbal diarrhea.
"The truth is that we are not strategising to shift the election date . we are not trying to frame up Jega. We are not planning to do any of the other reprehensible things that they have alleged," he said.
Since campaigns began, war of words between the two major political parties in the nation had continued to tilt towards the much condemned mudslinging.