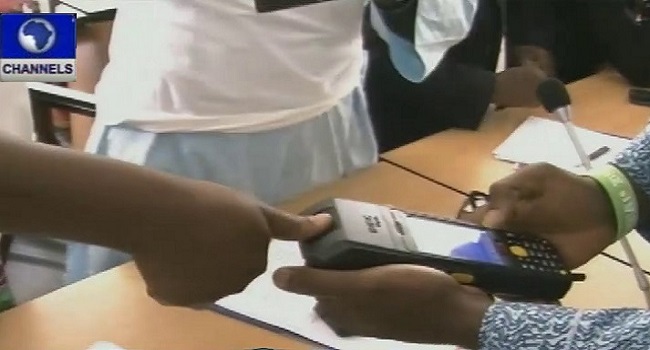 The Independent National Electoral Commission (INEC) in Nigeria has adjusted the guidelines for the elections to address some of the challenges being faced during the accreditation process across the country. 
The chairman of the Information and Voter Education Committee of the commission, Dr. Chris Iyimoga, told reporters that "where card readers fail to work, presiding officers can accredit voters by marking the voter register".
He also said arrangements will be made for voting to take place
on Sunday
in polling units where accreditation was suspended.
In some polling units across the country, card readers failed to read the finger prints of voters, causing delay in the process that is supposed to last for at most five hours.
In Otuoke, the home town of Nigeria's President and the candidate of the Peoples Democratic Party, Goodluck Jonathan, the card reader failed to authenticate the finger print of the President and his wife.
President Jonathan was made to fill the 'Incidence Form' before he was accredited manually by the ad-hoc staff of the electoral commission.
After waiting trying for over one hour, President Jonathan urged Nigerians to be patient with the INEC, saying everything that is being used for the first time will always have challenges.