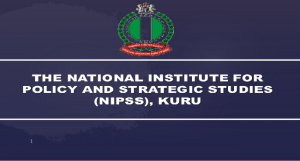 Members "Class 37"of the National Institute of Policy and Strategic Studies (NIPSS) in Kuru, Plateau State, on Monday visited Bayelsa State on a fact finding mission, with the aim of re-positioning the Nigerian educational system for global competitiveness.
The leader of the delegation, Major-General Johnny Hamakim, who paid a visit to the Bayelsa State Governor, Seriake Dickson, in the Government House, Yenagoa, said that the essence of their trip was to find out the root cause of the rot experienced in the nation's educational sector and proffer lasting solutions.
To Governor Dickson, there is no better time to begin the restoration process for the educational system.
"There is no more compelling national problem to solve than the education system," he said, adding hat successive governments have over the years been paying lip service to education.
According to him, a properly educated child would not have the time to hide in the creeks to vandalize pipelines or carry bombs.