Suspected Terrorists Kill 24 In Adamawa State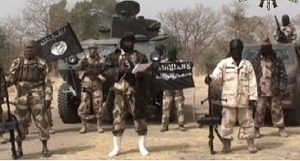 Suspected Boko Haram terrorists have attacked communities in Madagali Local Government Area of Adamawa State, killing about 24 persons.
The attack occurred on Monday night, two days after a suicide bomber carried out an attack at a market in Damaturu, Yobe State.
Eyewitness said the insurgents killed about 24 people in the attack on communities in Madagali local council before taking away women and children.
The residents of Sabogari area fled for safety, as the terrorist shot sporadically, wreaking havoc in the area.
Nigeria military had in March said terrorists have been cleared from Adamawa and Yobe State, but the terrorists have attack communities in the states recently.
Counter-terrorism operations aimed at clearing terrorists from their Sambisa Forest stronghold have forced the terrorists to mass in communities in the three north-east states – Adamawa, Borno and Yobe.
Over 800 women and children had been rescued in the operations, but the terrorists are taking more as hostages despite heightened assaults by Multi-National Joint Task Force.
Terrorism in the north-east is one of the problems the incoming government will have to handle, as the terrorists have threatened to sustain the attacks even after the Muhammadu Buhari-led administration takes over governance on May 29.
The President-elect had promised to tackle the Boko Haram terrorist group and force them out of the communities in the oil-reach nation's north-east states.