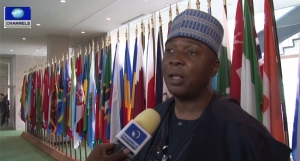 The Senate President, Bukola Saraki has expressed anguish over Friday's bomb blast inside the  Malkohi Internally Displaced Persons' camp in Yola, Adamawa State capital, Nigeria's Northeast region.
Senator Saraki condemned in strong terms the Yola blast saying the "inhuman act" could only have been perpetrated by sadists and evil people now facing imminent defeat.
"My prayers go out to victims of the attacks at the largest IDPs camp located in Yola.
The IDPs in the Northeast need our support now more than ever.
The insurgents have resorted to cowardly methods because they are being routed by our military"
He adds that troops have demonstrated in no unmistakable terms that they are ready to keep a date with the December ultimatum given to the newly decorated Service Chiefs to crush the insurgents by President Muhammadu Buhari.
Senator Saraki also commiserates with the Saudi Arabian authorities and the Muslim Ummah over the construction crane that crashed into Mecca's grand mosque, the Kabbah, killing at least 107 people, with scores more injured, days before the commencement of this year's Hajj.