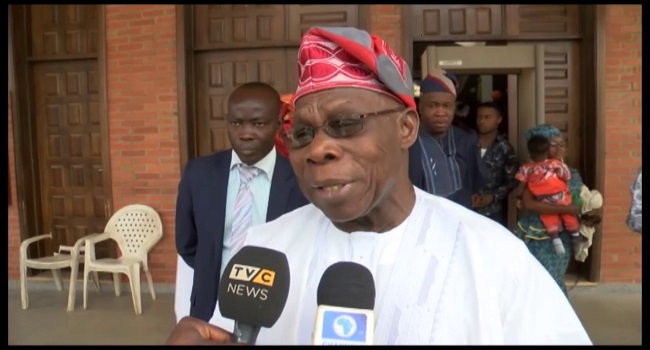 A former president, Olusegun Obasanjo, has joined other Nigerians at a church service held at the Chapel of Christ the Glorious King in Abeokuta, the capital of Ogun State, to mark the celebration of the birth of Jesus Christ.
The former president, while praying at the occasion, prayed for continuous peace and unity in the land.
He also asked that the message of love and salvation embedded in the celebration, should be made to reflect on citizens' daily activities.
Giving a road map of what ought to be done to reduce the effects of the hard times the Federal Government asked Nigerians to brace up for, the former president challenged all arms of government and Nigerians in general to make the necessary sacrifices to ensure economic recovery and growth in the coming year.
"I believe that the government has tried to let us know what the situation is likely to be, but I believe that we have done it before, we have had downs in our economy before, we have risen again, we have made money, we have squandered it and we must now know, if we are sensible at all, that there must be an end to squandering – squandamania. That is the first thing by everybody.
"I still believe that there are still areas of government that are not serious enough to make us feel that what is being said is something that will concern all of us.
"It will be very difficult for the people of this country to see that certain arms of government are living in luxury while the government is asking some of the ordinary people to continue to make sacrifice.
"I believe that all arms of government; the executive, legislative, judiciary, parastatals and indeed, the private sector should realise that if they are going to shorten the time of this hardship or have any cushioning effect for the ordinary people, there will have to be sacrifice made by those who have to make more sacrifice," he said.