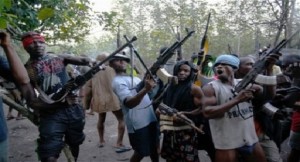 Some ex militants in Rivers State have protested against what they call undue exclusion from the Federal Government's Amnesty Programme and Army assault on their members during the last verification exercise in the state.
The protest came after the renewed efforts by the Special Adviser to the President on Amnesty Programme, Brigadier General Paul Boroh (Rtd), kick started the verification exercise to aid transparency and documentation for payment of stipends.
A source at the Amnesty Office in Abuja told Channels Television that only the President of Nigeria has the power to grant amnesty to any agitator.
The Head of Media to the Amnesty Office, Owei Lakemfa, said in a telephone conversation with Channels Television that "the Amnesty Office is not aware of any alleged manhandling of ex agitators during the verification exercise that took place in Port Harcourt, the capital of Rivers State.
" It  is only the President (Muhammadu Buhari) who has powers to grant amnesty. The programme has been working based on a data base.
"Anyone that has further complains should channel their query to the office."
There is however, a need for these concerns to be looked into to by the authorities to forestall any possible breakdown of law and order in the region.