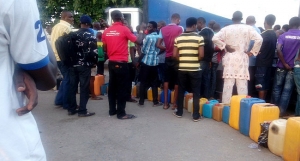 The national President of the National Union Of Petroleum and Natural Gas Workers (NUPENG), Mr Igwe Achese, is hopeful that before the end of April, the petrol scarcity witnessed across Nigeria.
He said that the union had, at a meeting with President Muhammadu Buhari on Wednesday advised the government to put in necessary policies that would adequately regulate the prices of petroleum products.
Mr Achese told Channels Television in a telephone interview on Friday that the stakeholders at the meeting agreed to work together in making sure that product distribution were not being hindered.
"I strongly believe that by the end of April scarcity will be off the street but the more important thing is the political will of stakeholders in the sector to see how to get scarcity off the street.
"With the passion the President spoke about the situation, I am strongly convinced that scarcity will soon end," he stated.