Obiano Moves To Forestall Fulani Herdsmen, Host Communities Clashes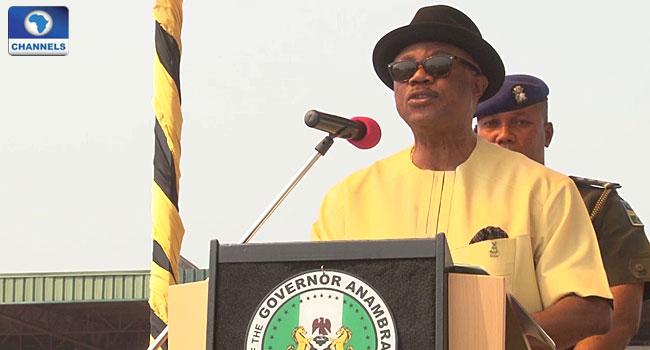 The Anambra State Governor, Willie Obiano, has convened a joint meeting with representatives of the Hausa/Fulani community, traditional rulers of communities where major grazing activities take place and members of the Fulani/farmers Cattle Menace Committee.
This is to draw a road-map towards preventing violent clashes erupting in the state and to ensure the enforcement of the resolutions reached earlier between the Fulani/Farmers Cattle Menace Committee, which he set up in 2015.
Addressing the meeting at the Governor's Lodge, Amawbia, Governor Obiano said that the meeting was in response to the increasing clashes between Fulani herdsmen and their host communities in several other states.
The Governor reminded everybody of the resolutions reached earlier with the Fulani/Farmers Cattle Menace Committee which included payment of full compensation by the Fulani community to communities for any crops or property destroyed by their cattle while the communities also would pay full compensation to the Fulani community if they attack and kill any cattle.
In a situation where lives were lost, full compensation for burial and other activities would apply while perpetrators would face the full wrath of the law.
He emphasized to the Hausa/Fulani community that on no account should herdsmen carry guns and sophisticated weapons, assuring them of their safety and protection at all times.
For clarity purposes, the Governor directed the Special Assistant to the Governor on Islamic/Hausa Fulani Affairs, Garuba Haruna, to interpret to the Fulani delegates in their known language.
The Chairman of Anambra State Vigilante Services, Mr. Ikechukwu Afuba also drew attention to the issue of identity cards to be made available to herdsmen.
The leader of the Hausa/Fulani community and the Southeast Chairman of the Fulani Herdsmen Association, Sadiq Gidado, commended the security in Anambra State which had helped them carry on with their businesses successfully.
He appealed to the government to support them in the area of logistics to help monitor activities of their people everywhere towards harmonious and peaceful co-existence.
The meeting also had in attendance the Deputy Governor and some of the state service commanders. The NDLEA Commander also called for peaceful co-existence.