Fani-Kayode Arrives At EFCC Office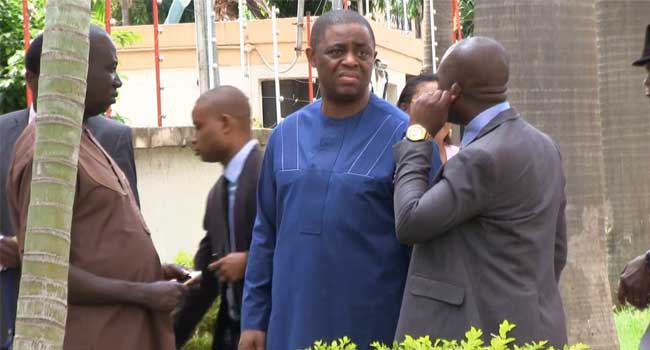 Former Aviation Minister, Mr Femi Fani-Kayode has honoured the invitation of the Economic and Financial Crimes Commission (EFCC).
He arrived at the headquarters of the anti-graft agency in Abuja on Monday morning in a police convoy.
EFCC operatives had laid a siege to Mr Fani-Kayode's residence on Friday but later withdrew after almost six hours.
Officers of the EFCC had visited his Maitama home at about 10:00am local time, inviting him for questioning on Monday, May 9, only to return at midday with armed men, seeking his arrest.
The EFCC said it was carrying out its functions, claiming that Mr Fani-Kayode had a case to answer over the Peoples Democratic Party's election funds.
Mr Fani-Kayode said he was surprised at the turn of events after he had promised to show up with his lawyer on Monday.
He was the Director of Publicity for former President Goodluck Jonathan and PDP's campaign Organisation before the general election of 2015.
Not A Coward
Few days before he was invited, Mr Fani-Kayode had released a statement in which he debunked media reports that he was invited by the Economic and Financial Crimes Commission (EFCC).
Mr Fani-Kayode, described the earlier reports of his arrest as absurd, "I am not a coward", he said and added, "this attempt to further demonise and humiliate me by the EFCC will fail.
"If they have any questions for me why don't they just write to me or call me, give me a date and I will be in their office. I have made my position clear on the issue of the Presidential campaign funds, I have written an essay about it in my various columns about two weeks ago and I have been waiting for the EFCC to reach me ever since then.
"They have invited others but they have not invited me. I do not believe that I have done anything wrong and this latest attempt to criminalise me and make me look like a fugitive from justice will fail.
"Others that were invited to the EFCC over this same campaign funds issue were sent letters of invitation and were reached. I appear to be the exception and now these hideous lies are being fed to the newspapers to make it look as if I am in hiding or that I am running from them just to sensationalise the whole issue."