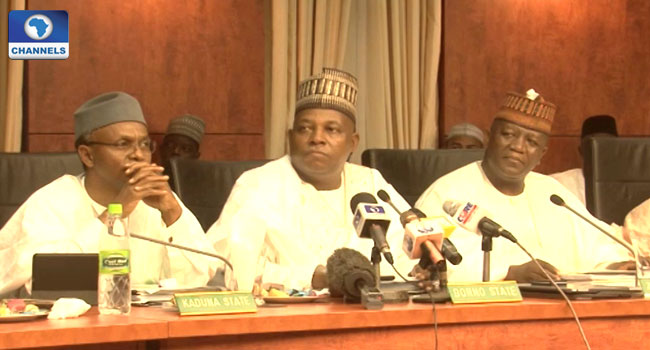 The Progressive Governor's Forum on Thursday endorsed cattle ranching against the proposed grazing reserve areas, to minimize the conflicts between farmers and herdsmen across the country.
The APC governors arrived at the decision in Makurdi the Benue State capital where a delegation from the forum paid a solidarity visit to the Benue State Governor over the killings of farmers by armed herdsmen operating in the state.
Community and opinion leaders gathered to listen to the much need message of hope and ways of ending the armed herdsmen killings of Benue farmers in the villages.
The host governor, Mr Samuel Ortom, briefed the APC governors on the criminal activities of the herdsmen and lamented the inability of the security agencies to make a single arrest of the invaders.
Moved by the agonizing stories of how human lives were being wasted in the state, the APC governors, asked Nigerians to hold them responsible if the government fails to secure their lives.
Chairman of the forum and Governor of Imo State, Mr Rochas Okorocha, said this as he warned against the consequences of ignoring the herdsmen attacks on Benue communities.
The Governor of Niger State, Abubarka Bello, also added the forum's voice to the campaign for the establishment of ranches instead of the proposed grazing reserve areas.
He said that ranches will minimize frictions between farmers and herdsmen.
Before the visiting Progressive Governors left the state, Governor Ortom treated them to a change of clothes into the Benue unity attires to underscore the need for peace across the country.