Ministers Insist Campaign Promises Will Be Fulfilled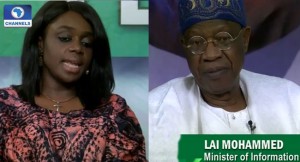 Some members of Nigeria's Federal Executive Council on Sunday assessed efforts and strategies being implemented by the government to resolve prevailing socio-economic challenges over the last one year.
Speaking during Channels Television's special Democracy Day programme, Buhari-365-Days, the Minister of Information, Mr Lai Mohammed and the Minister of Finance, Kemi Adeosun, defended the policies of the Buhari-led administration.
They insisted that the promises made during the 2015 campaigns would be fulfilled.
The All Progressives Congress (APC) campaign focused on three issues – insecurity, corruption and the economy and the Minister of information believes that the government is on track on these.

"By this time last year, 14 out of 20 local governments in Borno State alone were under the sovereign authority of the Boko Haram insurgents.
"Today, we can say very confidently that the Boko Haram insurgency has been caged. They no longer have the kind of capacity or capability to launch the kind of attacks they use to launch before," Mr Mohammed stated.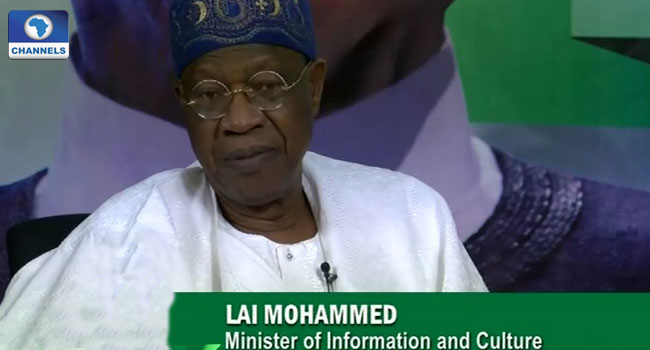 He said the government had been able to end attacks on the nation's capital and security agencies' posts.
On corruption, he said that the Muhammadu Buhari-led administration was winning the war on corruption, citing ongoing trials of persons alleged to have looted the nation's funds.
On the economy of the nation, the Minister of Finance dismissed claims that the promises of the party on the economy had not been felt.
"One thing we have to understand about the economy is the direction the economy has been travelling in.
"Consistently, since 2005 the decline accelerated in 2014 when the prices of crude oil took a sudden plunge.
"What we see today should have happened whatever party had won," Mrs Adeosun said.
She blamed previous administrations for their failure to utilise revenues generated during oil boom.
According to her the government had factored in some of the campaign promises into the budget, citing the creation of jobs as one of those.