PDP Crisis: Court Orders Sheriff's Recognition In Edo, Ondo Elections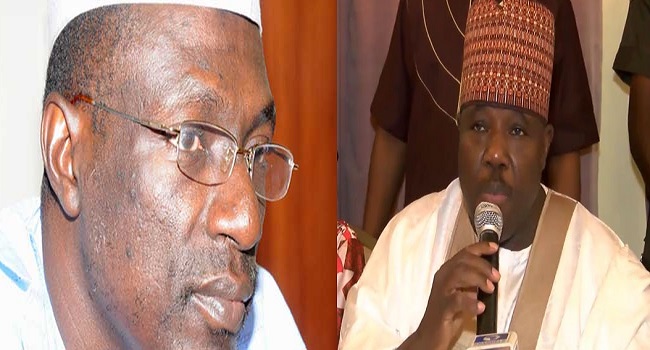 More court orders have continue to plague the opposition Peoples Democratic Party (PDP), deepening the party's leadership crisis even more.
On Friday, Justice Okon Abang of the Federal High Court in Abuja gave an order asking the Independent National Electoral Commission (INEC) to only recognise the Senator Ali Modu Sheriff's group in the conduct of any activity of the party including primary elections and congresses for the Edo and Ondo governorship elections.
The order issued and signed by the registrar, Mr Olawale Oladoyin, also restrained the INEC and the PDP organs from according recognition or dealing with any other persons or group in the case of the Edo and Ondo elections other than Senator Sheriff and his group.
The court document clearly highlighted that the orders were pending the hearing and determination of the originating summons.
But in the meantime, the order also instructed INEC to reject and ignore any activity including primary elections or congress for the nomination of candidates for the Edo and Ondo governorship elections.
This recent court order has put more grey on the badly battered state of the party's leadership which has seen the Senator Sheriff and Senator Ahmed Makarfi groups locked in series of back forth legal tussle.
The leadership tussle in the party began when a convention held in Rivers State's capital, Port Harcourt saw the removal of Senator Sheriff as the Chairman of the party and the setting up of a caretaker committee to handle the affairs of the party led by Senator Makarfi.
After his removal, Senator Sheriff dismissed the decision taken by some leaders of the party, saying their proclamation held no waters, as a court had ordered that the convention should not hold.
Some members of the party have accused Senator Sheriff of trying to scuttle the party ahead of coming elections, where the opposition party would be making efforts to regain some states from the All Progressives Congress.
Few days ago, the Senator Makarfi-led faction conducted a primary election in Edo State ahead of the governorship election that will hold in September.
After the primary election, Senator Sheriff nullified the result and sold forms to other persons willing to contest in another primary election.
He had scheduled to hold the primary election to choose another governorship candidate that would represent the PDP, a decision that would leave the party with two candidates ahead of the election.