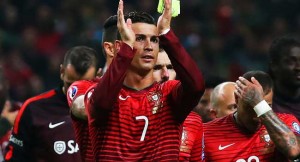 Portugal Coach, Fernando Santos, says there is more to his team's Euro 2016 semi-final match against Wales than the much hyped Cristiano Ronaldo v Gareth Bale duel.
Speaking to the media on Tuesday evening, ahead of the match, he said, "They're players who have experience, and are used to such pressure. There's no added pressure. It's not just Cristiano v Bale, it's all the players from both sides."
He admitted, "Cristiano has led by example here. The way he is on the training ground, with his team-mates, he's been impeccable," but the coach is more concerned about having not one, but all his players fit on Wednesday.
One of such players expected to produce a top notch performance against the now feared Welsh side is Pepe, who is not yet certified fit to play.
"We need the players who play in such a tough game to be 100 per cent fit. We want to make our own history. There's the past, which is important for everyone, but we want to write our own story.
"We have been trying to do so from the off and tomorrow is another step against a very strong opponent.
"We know how hard it will be, but we'll go into it with the same humility and attitude as ever."
He added, in a cryptic mood, "My grandmother used to say the most important thing is to wake up in the morning because it means we're alive."
Difficult Battle
Meanwhile, Portugal defender, José Fonte, admits that Wales would be difficult to play against having grown in confidence in the championship.
"Wales never give up. The mentality, togetherness that they're showing and the system they're playing suits them well.
"They know the system well, they have their strengths and are a team with a lot of qualities and they are where they are because they deserve it and we expect a tough game.
"We've managed to get to the semis. We're one step from the final and we have a very important, difficult battle tomorrow.
"We want to get there and we want to give something back to the country and all the Portuguese emigrants who have supported us while we are here," he said.
Coach Santos also acknowledged the fans, "The support has been fantastic. Whenever we go back to Marcoussis, arrive at a stadium, they're there in numbers. Their devotion is amazing."