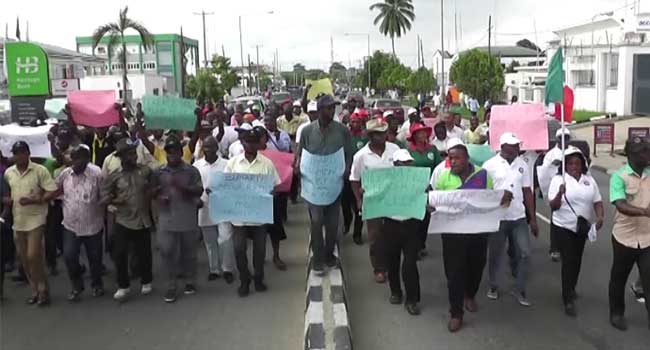 A massive protest is billed to take place on August 26 in Yenagoa as Youths, activists, clerics and civil organisations are proposing to protest the alleged extra-judicial killing of a 17-year-old teenager, Master Innocent Kokorifa by the police.
The victim was allegedly gunned down by the Anti-Vice/Anti-Kidnapping squad of the police on August 18 along the Airforce Road, at about 11a.m. local time.
The victim according to his mother was said to be running an errand when he was killed in mysterious circumstances by the police.
Father of the deceased, Mr Daniel Kokorifa, an officer of the Federal Road Safety Commission (FRSC), said his first child out of five children, was murdered in cold blood.
Master Kokorifa was to turn 18 years on September 9.
But the police in a statement by the Police Public Relations Officer (PPRO), Mr Butswat Asinim, said the victim died in a gun battle between a three-man notorious armed robbery gang and the police squad.
All arrangements by different groups of people to protest the killing under the auspices of House of Justice have been concluded.
A Niger Delta activist and former Spokesman of the Ijaw Youth Council (IYC) Worldwide, Mr Jeremiah Owoupele told reporters in Yenagoa that the
protest was to demand justice from the police.
He described the killing of Kokorifa as unwarranted, avoidable saying it had plunged the deceased family into mourning.
He said: "We can't even comprehend the position of the Nigerian Police Force, an agency of government whose primary responsibility is to provide security, protect lives and ensure peace in our society.
But the police have suddenly become an instrument of death.
"It is even more tragic and more painful, the pace at which the Bayelsa Police Public Relations Officer issued a statement in respect of the late juvenile, Master Kokorifa, as being a criminal whose death was as a result of gun fire exchange between the police and criminals.
"Perhaps most intriguing is the fact that when respected citizenry including legal minds, youth leaders and activists raised eyebrows over this particular death, the police in a meeting with the deceased family pleaded with them to exercise restraint and allow the police command to investigate the matter.
"This statement shows a deliberate attempt to cover up the culprits of this dastardly act. Is it not standard police practice for the police to conclude investigations before issuing a statement to the public".