Buhari Congratulates NBA On Inauguration Of New Executive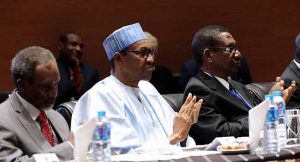 The President of Nigeria, Muhammadu Buhari, on Friday congratulated the Nigerian Bar Association (NBA), on the inauguration of its new executive.
He celebrated the new administration led by a Senior Advocate of Nigeria, Abubakar Balarabe Mahmoud, during the 2016 Annual General Conference held in Port-Harcourt.

The President also commended the outgoing executive, led by Augustine Alegeh for the resourceful exchange of ideas, commitment and support for national development.
He urged the new President of the NBA to use his vast experience in private practice, and public service, garnered over the years to build on the legacies of his predecessor, and contribute to reforms across Nigeria.
As the new executive settles down to work, Buhari looks forward to having a strong and sustainable relationship with the leaders, especially in jointly tackling the challenges currently facing the nation.
The 56th edition of the NBA conference, has attracted lawyers from across the country and beyond.
So far, the conference has been considered as possibly the largest gathering of legal practitioners, with this year's edition, focusing on democracy and economic development.
The President prayed that the almighty God would grant the new NBA executive, the wisdom to realise their vision for the association and Nigeria.
The week-long conference, which started on August 21, has featured variety of activities ranging from seminars, lectures, and the election exercise, amongst others.
At the end of the conference, the Governor of the state, Nyesom Wike, is expected to produce a blueprint for national development.
He, however, expressed his enthusiasm towards jointly tackling some of the current issues facing the nation, and assured the people of sustainable development in the state, through the execution of projects that would positively impact lives.