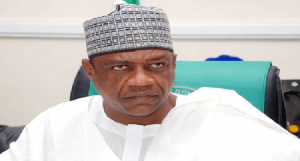 Yobe State Governor, Ibrahim Gaidam, has called for a review of the legal structure for Nigeria's mining sector.
Governor Gaidam also asked the Federal Government to take decisive steps against the upsurge in the exploitation of the available mineral resources in the country.
He made the call on Wednesday in a meeting with a team from the Revenue Mobilisation, Allocation and Fiscal Commission (RMAFC) at the Government House in Damaturu, the state's capital.
The RMAFC is saddled with the responsibility of monitoring exercise on royalties' collection and activities of miners across Nigeria.
The governor was confident that the RMAFC would make a strong case towards removing the restrictions placed on states and local governments on direct involvement in the solid mineral development sub-sector.
Accelerated Exploration And Exploitation
"I wish to advocate for urgent review of the legal framework in respect of the mining sector to clearly define the roles of the states, local governments and communities blessed with solid mineral potential.
"The Federal Government should also take decisive steps towards accelerated exploration and exploitation of the solid minerals that are in Nigeria, particularly in states like our own.
"This will also enable us benefit from the 13% derivation from the revenue from solid minerals that we have been blessed with," Gaidam said.
In his response, the leader of the delegation, Mr Yakubu Tuktur, said they were in Yobe State to monitor revenue accruable from the solid mineral sector and the activities of miners among others.
He advised the state government to establish a solid mineral selling point, in order to benefit from the revenue from the sector.
Mr Tuktur also expressed confidence that the present administration would succeed in diversifying Nigeria's economy.
"As you can see, the present administration is committed to diversifying the nation's economy instead of over relying on oil.
"The government wants to concentrate on solid minerals development (and) agriculture among others, but this team is purely on solid mineral development," he stated.