As events marking the Calabar Carnival draw closer, over 250 power bikes from Uyo, Imo, Enugu and Anambra States have participated in the 2016 Bikers' Dry Run in Calabar, the capital of Cross River State.
Led by the state Governor, Ben Ayade, the extremely kitted crowd of bikers rode around the carnival routes to get familiar with the routes ahead of the main Bikers Carnival slated for December. 27.
According to Mr Ayade, the carnival which is 12 years in row is getting better and bigger with innovation added into it yearly.
The President of Metallic Nights Motorcycle Club of Calabar, Mr Akin Rickets, said that the club was established in early 2016 with the aim of getting power bikes riders to imbibe safety measures.
He maintained that 46 of his members were participating in Bikers' Dry Run.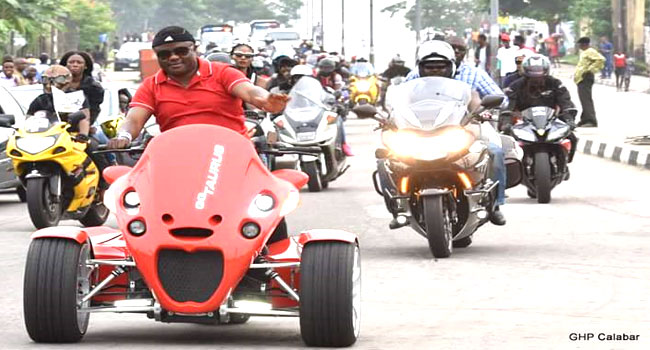 "Our aim is to take safety measures by establishing the routes that would be taken on the real bikers' day of December 27. We have distinguished personality in our club which ranges from military personnel, royal fathers, politicians and others," Mr Rickets said.
A member of Millennium Motorcycle Club of Uyo, Mrs Ini Undonkan, said that she led 52 of her club members to participate in the Bikers' Dry Run.
According to Undonkan, "riding a power bike is fun". She pointed out that road crashes can be prevented if safety measures are taken.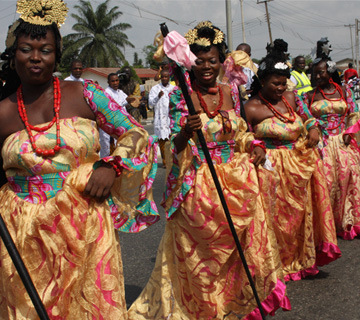 "Some people see power bike as a male dominated show; but that is not true because we have over 10 females in our club who are experts.
"Riding a power bike is just like sport. As a woman, I wanted to be a pilot; but unfortunately I could not make it," she told Channels Television's correspondent Imani Odey.
The Bikers Carnival was first introduced in 2015 as a major innovation of the Mr Ayade-led administration to add colour to the event.
The Carnival in Calabar usually draws tourists from around the world and it has become a delight for most participants, as it showcases beauty, colour, craft and other talents that abound in Nigeria and particularly in the southern region of the oil-rich nation.