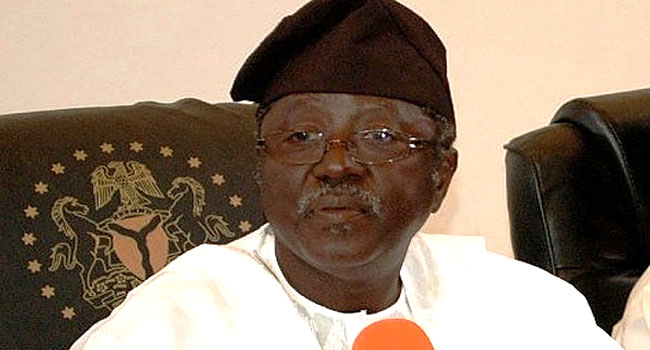 The Commission of Inquiry looking into the activities of a former governor of Plateau State, Jonah Jang has submitted its report to the current administration.
The report contains several volumes of findings, exhibits and recommendations on the indictment of the erstwhile administration.
In his remarks, Justice Stephen Adah, who headed the Commission, stated that the members during the public hearing had 35 days of public sitting in which everyday was a revelation through referendum, witnesses and exhibits which informed the report compiled by the six member panel.
The eight-year period of the former governor of Plateau State was put under scrutiny, with focus on the government's activities between May 29, 2007 and May 28, 2015.
With over 100 memoranda submitted to the commission, Justice Adah said everyday was revealing and tasking before arriving at the report.
"We called for public hearing and we put in 35 days of public sitting and everyday was a new revelation of what actually informed our report. And so we thank God for the cooperation of everyone that submitted referendum and attended the public hearing.
"What we have are what the people told us. We had 195 witnesses who came and took oath before us and gave evidence we also admitted composite exhibits totalling 181 as well as our own counsels and solicitors that came to defend notable citizens mentioned during the sitting," he explained.
Right The Wrong
Receiving the report, Plateau State Governor, Simon Lalong, assured the members of the panel that the report would not be thrown into the dustbin like any other report, but stressed that the findings and recommendations would be put into use for good governance and accountability.
He said: "Those who think it is a waste of time and resources might be right to some extent, because over the years, reports of this nature have been stock piled on Government shelves and to say the least, consigned into the waste paper basket of history.
"This, I assure you, will not be the same with this report.
"In establishing the Commission, we took account of the outcry and groans of our people. We felt their pulse and for certain, we heard their cry. What they desired was for us to get it right and getting it right, will mean knowing where the past made a mistake, so we avoid it. Getting it right, will mean knowing where the past got it right, so we continue with it; and getting it right, will mean where the past government got it wrong, so we right the wrong for the good of the people.
"Our thrust under the good governance policy is to ensure the commonwealth of the people is rightly accounted".
With the submission of the Commission of Inquiry on the eight year activities of former government of Jang, the people are looking forward to the white paper and implementation of the report in order to right the wrongs of the past administration.