Government and residents of Rivers State have expressed worries, as scientists try to unravel the true cause of black soot within Port Harcourt, the capital city and other parts of the state. 
Residents had recently started noticing black deposits on their rooftops and their cars. Their concern became deepened when the real cause or origin of the soot was unknown.
Channels Television in company of some environmentalists and other scientists set out to carry out a scientific inspection of the black particles.
Adeyemi Adewale is the chairman of the Nigerian Environmental Society in Rivers State. As early as 5:30 a.m., he led his team to the field to set up particle sampling machines. According to him, the sampling exercise is better done early in the morning.
He said: "This sampling exercise can only be carried out either with a hand sampler and metric meter. The sampling paper traps the particles from the air sucked in by the Air metric particulate sampler. It is best to start early in the morning in order to ensure that other activities like car fumes and human interference will not choke up the atmosphere".
Mr Adewale further said that the "particles gathered between 5:00 a.m. and 10:00 a.m. are usually better samples for scientific examination".
Meanwhile, as late as 9:00 a.m. a dense fog could be seen in the atmosphere and Mr Sam Emejuru, a resident of Port Harcourt and the National Secretary of National Environmental Society told Channels Television that he had been noticing the particles for two months now.
He says when he wakes up in the morning he notices black dusty like substance on his car and surfaces in his house.
"What is happening is that there is a product of combustion which is an incomplete burning process that emits carbon. There are many industries that process hydro-carbon materials. Activities of illegal refineries is also a possible cause," he said.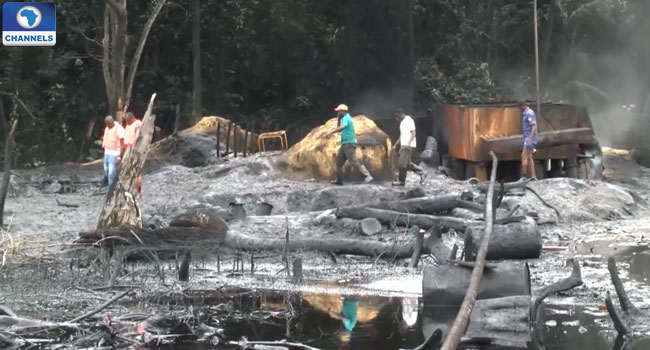 A statement by the state government said the appearance of the black soot was a source of grave concern to it.
The Ministry of environment has sent separate investigative teams to all parts of the State and is already working on the strong hypothesis that the black soot might be caused by artisanal oil refining activities, the burning of car tyres at night in different locations in the state, and other air-polluting activities around the state.
The statement by the Commissioner for Information and Communication, Dr. Austin Tam-George, said samples of the black soot had been sent to sophisticated laboratories in order to determine its actual origin.
Residents of the State have been advised to stop the burning of tyres or any illegal oil mining activities.
Oil companies have also been advised to stop gas flaring in order to encourage a healthier and sustainable livelihood in the state.