Bauchi Security: Police Smash Kidnap Syndicate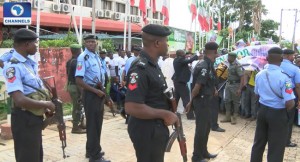 The Bauchi State Police, have apprehended a gang of kidnappers that have been terrorising citizens in the state, in the northeast region of Nigeria.
The state Police Commissioner, Zaki Ahmed, told journalists at a press briefing in Bauchi that a renowned hunter in collaboration with officers of the command, effected the operation on Yuga forest in Toro local government area.
According to him, the kidnappers den was raided and 48 hostages held captive by the abductors, were rescued during the operation.
No fewer than 19 suspected kidnappers were arrested at various locations across the state including an informant and negotiator of the kidnappers.
The police also exhibited dangerous weapons recovered from the raid.
As the collaboration between the public and the police towards fighting crime continues to yield positive results in the war against crime, there are hopes that the insecurity in and around the state would come to an end soon.