National Security: Air Force Graduates 1,498 Recruits In Kaduna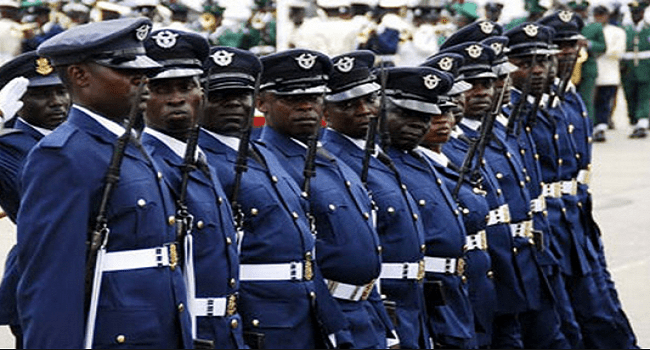 The Nigeria Air Force (NAF), on Friday, graduated a total of 1,498 recruits of its Basic Military Training Course, with a warning to them to be vigilant and committed to their constitutional responsibilities of safe-guarding the nation.
During their passing out parade held at the Ground Training Centre, NAF base Kaduna, the Chief of Air Staff, Air Marshal Sadique Abubakar, told the new recruits to be prepared to pay the supreme price in defending their fatherland, especially at a time when the country is facing several security challenges.
Their journey began in July 2016, with 1,563 candidates, while 49 were withdrawn and four absconded.
Also among the graduates were 331 operatives of the Economic and Financial Crimes Commission (EFCC).
As part of the effort to prepare the young airmen and airwomen for the task ahead, and in pursuance of the service's mission-oriented force development, the curriculum for their course was reviewed with the introduction of internal security module.
Awards were given to recruits who distinguished themselves in the cause of the training
Addressing them, Air Marshal Abubakar, warned that the Nigerian Armed Forces, have zero tolerance for weakness and any conduct that is inconsistent with service discipline.
He reminded them to imbibe the culture of discipline, absolute loyalty to both civil and military authorities, and to avoid being used by any disgruntled elements in the society.
The Air Force boss, also announced that his administration places a high priority on welfare and capacity building of officers and men of the service.
The induction of the young men and women into the military, is not doubt coming at a time the nation is in dire need of additional manpower for her military needs.
Therefore, as they join their colleagues in the field, it is expected that they sticjk by the oath they took to protect all law abiding citizens and visitors from both internal and external aggression.