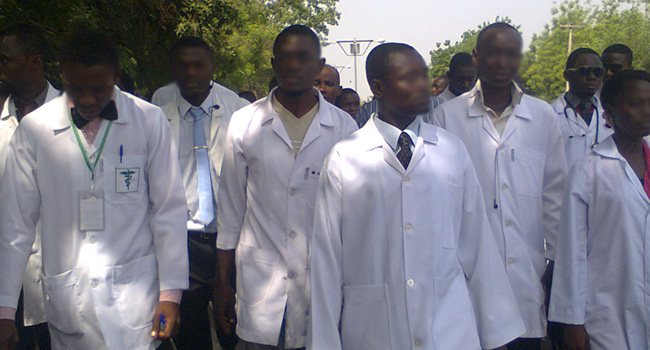 The Association of Resident Doctors, (ARD) in Federal Medical Center, Lokoja, has joined the strike by the National Association of Resident Doctors (NARD), to register their displeasure with the management of Nigeria's health system.
Briefing pressmen, the Lokoja ARD President, Dr. Obohwemu Kennedy, said that his members were part and parcel of the NARD and were duty bound to comply with the directive.
The doctors, were seen carrying placards with different inscriptions to press home thier demands from the Federal Government.
On December 19, 2016, NARD gave the Federal Government up to January 2, to implement the National Health Act, 2014, while asking it to also address the lingering issues affecting the health sector, especially as it affects resident doctors.
Explaining further about the reason for the protest, Obohwemu lamented the pitiable state of Nigeria's health system, citing the need for the Federal Government to urgently intervene and prevent massive exodus of doctors to the outside world for greener pastures.
"Apart from the fact that we are following instructions from our national body, we believe it is time to take the bull by the horn and address these persistent problems once and for all.
"Let the whole world know what resident doctors are going through- Our patients deserve the best of healthcare delivery.
"We cannot do that when we, the healthcare providers, are not in the right frame of mind.
"The medical profession is going through the toughest of times in the recent years, our black jackets and black bands, symbolise the death of our healthcare delivery system.
"We asked for resurrection, a revamping of the system, such that the average Nigerians can confidently access quality healthcare at affordable rates."
Speaking on behalf of the Medical Director, Dr. Taiwo Olaoluwa who calmed the protesters, said their demands were not out of place.
Although he explained that the hospital was mourning as a result of the death of a Chief Nursing Officer, he then assured them that the Federal Government was working out solutions to their demands.