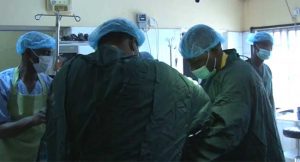 The Chief Medical Director of Federal Medical Centre, Umuahia, Chukwu Abali Chukwu has said that the hospital has concluded collaborations with the University of Toledo, Ohio, United State on the renal treatment.
Briefing Journalists on Monday, Dr. Chukwu stated that adequate medical facilities have been put in place to achieve the feat, hinting that this collaboration would also consider other areas that include research, training of health personnel and other areas of medical expertise.
According to him, the desire to initiate further and explore, collaborate, exchange of faculty, staff, and students for experiences involving health sciences; advanced studies; possible and collaboration in areas of research; and engaging in discussions on topics of mutual interest.
"This September, 2017, I wish to tell you that we would explore the area of kidney transplant in the medical centre, to make that possible, the University of Toledo, Ohio, United States of America has been supportive in accepting a Memorandum of Understanding.
"With the MOU, we hope to start with that area of kidney treatment and have concluded all that is required for the collaboration to yield the desired result".
Meanwhile, the Federal Medical Centre, Umuahia, under President Buhari's Rapid Results Initiative has concluded the arrangement that would offer 1000 screening of Hepatitis B Free of charge for inhabitants of Abians.
The aim is to create awareness on the deadly disease which is of public health concern and to bring health care services closer to the people.