The traditional ruler of the Benin Kingdom, Omonoba N'Edo Uku Akpolokpolo, Ewuare II, has again expressed the desire for a Free Export Trade Zone at Gelegele Community in Ovia North-east Local Government Area of Edo State.
The Benin monarch, who made the request at a meeting with the governor, Godwin Obaseki, at the Government House in Benin City, the capital of Edo State, admonished the governor to deliver on promises made to the people.
In his response, Governor Obaseki pledged full commitment to the Gelegele Seaport Project, saying that he had inaugurated a technical committee to oversee the development of Gelegele Seaport chaired by Mr Greg Ero.
"Our plan is to develop the Gelegele Seaport into a modern container terminal and we are in talks with the Federal Ministry of Transport.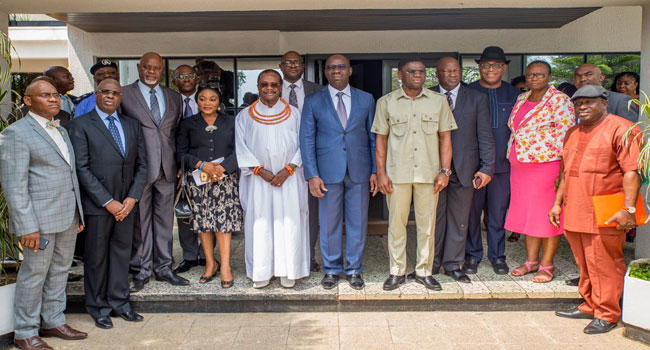 "Making Gelegele a container terminal would boost revenue generation, create more jobs and in the end, boost economic activities in our state," he said.
The terms of reference of the technical committee, according to the governor, are to advise the government on the feasibility of developing the Seaport as an import and export zone; and liaise on behalf of government with relevant Federal Government agencies and other maritime related agencies, private sector participants and other stakeholders.
Governor Obaseki further told the monarch that the proposed Seaport would also house an agro-industrial park that would increase exportation of agricultural produces from Edo State