Wike Lauds Nigerian Navy's Professionalism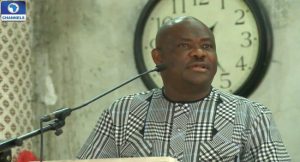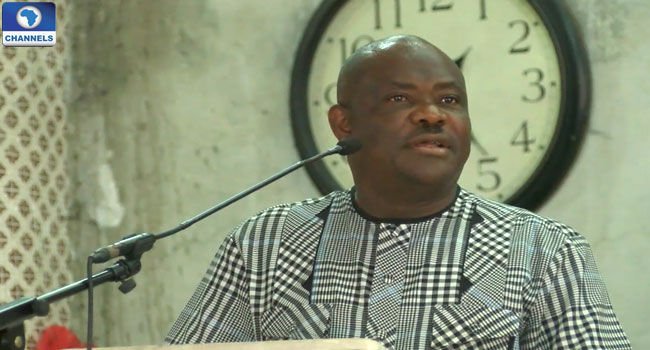 The Rivers State Governor, Nyesom Wike has lauded the Nigerian Navy for being professional while performing their duties.
The governor commended the Naval High Command for tracking down Rivers State Fishing Commercial Fishing Trawler, which he said would boost the revenue base of the state.
He made this known when he received the Flag Officer Commanding the Eastern Naval Command, Rear Admiral James Oluwole and the Commander of the Nigerian Navy Ship (NNS) Pathfinder, Commodore I.N Kayoda.
He said unlike other security agencies, the Nigerian Navy has concentrated on the promotion of security, rather than promotion of political interests.
"The Nigerian Navy has lived above board. They have refused to be dragged into politics. We have had rerun elections in the state, but I have had no reason to complain about the conduct of naval personnel".
He assured the Naval High Command of the support of his administration in terms of the provision of logistics to fight crime.
The governor said that the gunboats being purchased for the Nigerian Navy by the Rivers State Government will be released to the security agency.
He charged the Nigerian Navy to ensure that the gunboats when delivered, should be used strictly for the protection of Rivers waters.
"We are always willing to support security agencies. Nobody will tolerate crime as it hinders development ".
Earlier, the Flag Officer Commanding the Eastern Naval Command, Rear Admiral James Oluwole announced that the Navy has tracked down the fishing Trawler of the Rivers State, and would soon be handed over to the state government.
He also commended the governor for his commitment to Naval Operations, adding that the 120 Housing Units completed by the administration for the NNS Pathfinder would help solve the accommodation challenges of the personnel at the facility.
Rear Admiral James Oluwole noted that the Nigerian Navy would judiciously use the gunboats when delivered by the Rivers State Government.