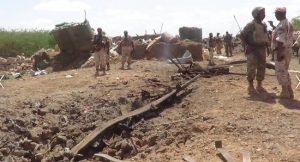 At least 13 people were killed in central Mali at the weekend in inter-ethnic clashes between Fulanis and Bambaras, the interior ministry said on Monday, escalating a conflict over resources in a region increasingly outside state control.
Other sources put the death toll much higher, including the head of a Fulani rights group who said that 45 people were killed and that fighting was still going on.
The Fulani, or Peul in French, are a cattle-herding people who have long co-existed peacefully with farmers from Mali's largest ethnic group, the Bambaras, but economic pressures and Islamist militant infiltration have stoked tensions.
The clashes began when a Bambara storekeeper was killed in a town near Macina, about 300 km (185 miles) northeast of the capital Bamako, said Modibo Dicko, head of a group of associations that defend the rights of Fulanis.
Villagers took up arms the next day and burned down the huts of Fulanis they blamed for his death, he said.
The security ministry said that 13 people had been killed and a number of houses set on fire, but that calm had returned on Monday and security forces were patrolling the area.
But Dicko said at least 45 people were killed and that fighting continued on Monday, with over 100 families having fled by foot and on motorbikes.
"Everyone who didn't flee was assassinated," he said.
Kader Ba, a retired politician from Macina, said he had reports that 30 people were killed on Sunday and five on Monday, including at least two who were burned alive. Members of his family were among those killed.
Violence in Mali, once confined to the desert north, has spread south in recent years partly due to jihadist recruitment among the marginalized Fulani based mostly in the center of the country.